Search cheap hotels, villas, apartments, flights and car hire.

Renowned as one of the world's most popular holiday destinations, Fiji is the island paradise that continues to impress all who grace its shores. Each year, over 340,000 Australians visit beautiful Fiji and it's no surprise why this enchanting archipelago keeps travellers coming back for more. Perfect for families, Fiji's beautiful weather, fascinating culture and spectacular beaches provide the ideal haven for families to soak up the tropical sun and unwind in paradise. Together with a range of fantastic family friendly resorts offering kids clubs and activities for endless adventure, Fiji provides the ultimate holiday experience for families.
From the snorkellers haven of the Mamanuca Islands to the alluring Coral Coast, there are more than 100 hotels and resorts to choose from. So, to make your holiday planning a little easier, we've narrowed down our top 5 favourite Fiji resorts for families.
Outrigger Fiji Beach Resort
Located on the picturesque Coral Coast, the Outrigger Fiji Beach Resort is a spectacular family friendly resort that captures the true essence of Fiji. Set among forty acres of tropical gardens on the beautiful beachfront, the resort offers families the perfect balance between total relaxation and holiday adventure. Boasting an accommodation experience complete with expansive suites, resort pools, tennis court, a day spa and fitness centre, the Outrigger has something for the whole family. Together with a range complimentary activities, kids' clubs and babysitting facilities, the Outrigger also offers kids stay, play and eat free packages for children under the age of 16. Providing unbeatable value for families, the Outrigger Fiji Beach Resort is the perfect place to stay in tropical paradise.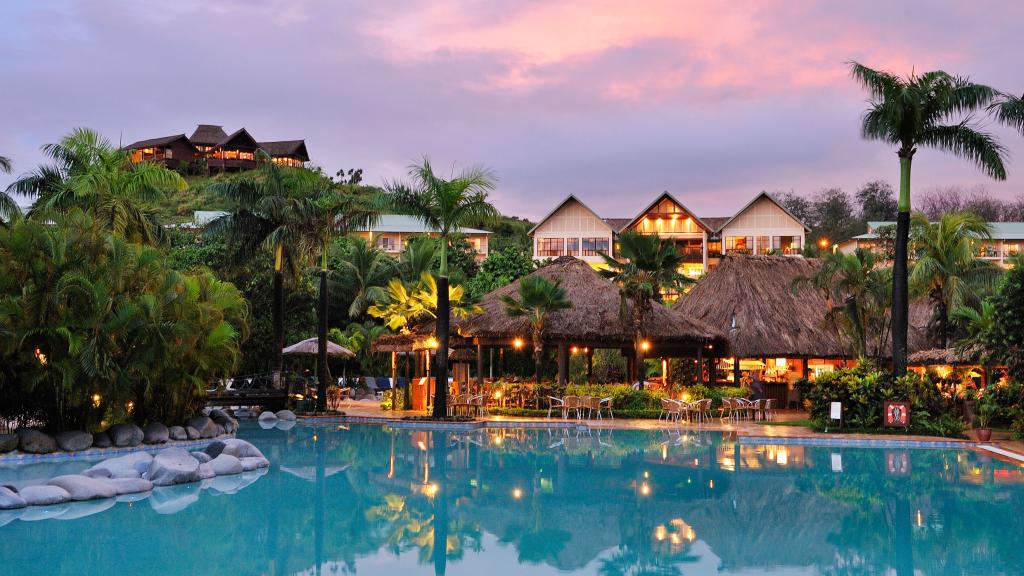 Shangri-La Fijian Resort & Spa
Set onto its very own tropical island, the Shangri-La Fijian Resort & Spa offers families a fantastic accommodation experience with panoramic views of the shimmering Fijian waters. Enjoying a wonderful tropical atmosphere, the resort features stylish accommodation and world-class service that caters to your every need. Perfect for families seeking an all-inclusive holiday experience, the Shangri-La's suite of onsite facilities includes 9 dining options, swimming pools, tennis courts, a golf course, and relaxing day spa. Together with a plethora of outdoor activities on offer including canoeing, volleyball, scuba diving and parasailing (just to name a few) the kids will never be bored on holiday!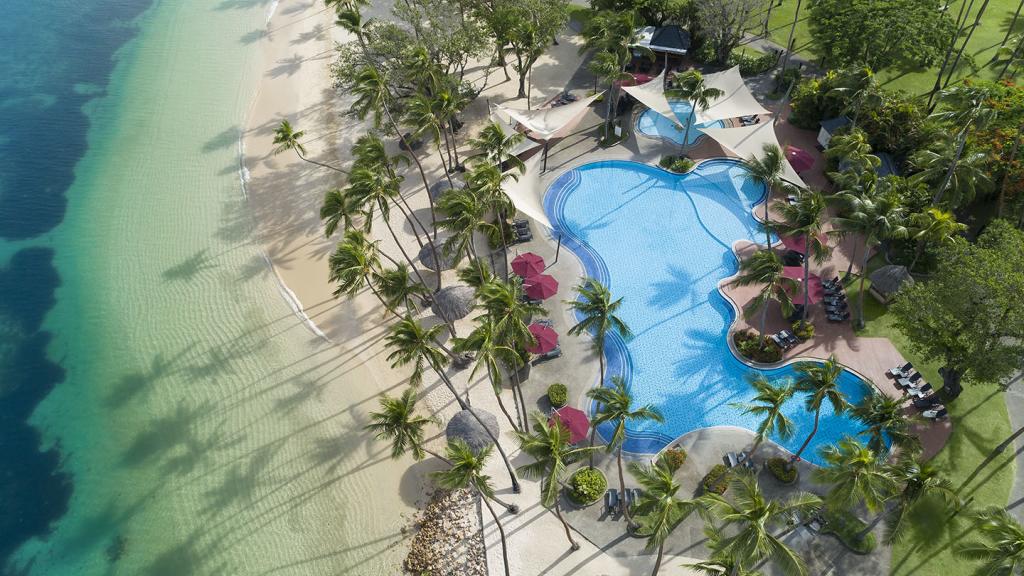 The Warwick Fiji
Offering 5-star luxury on the breathtaking coral coast, The Warwick Fiji is ideal for families seeking a stand-out holiday resort. Featuring superior facilities and service, such as 3 swimming pools, 5 restaurants and 7 bars, families are spoilt for choice on how to spend their time at this amazing resort. The kids will love the Lase Kids Club and spend their days craft making, sandcastle building, fish feeding and treasure hunting, while mum and dad can enjoy the lavish day spa and cocktails by the pool. Providing the perfect accommodation for the whole family, you can do as much or as little as you like, making your Fiji holiday whatever you want it to be.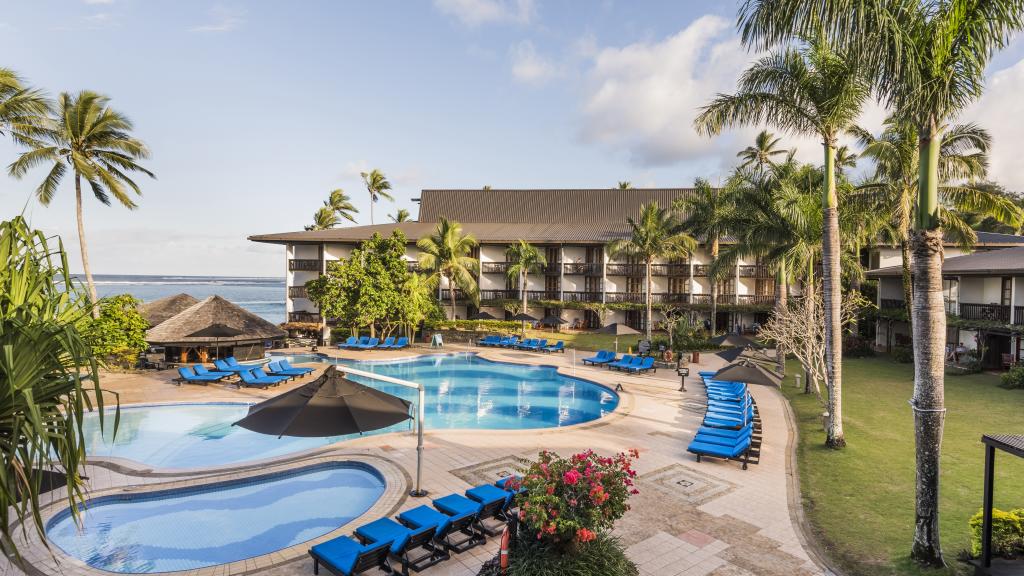 Radisson Blu Resort
Located just 20 minutes from the Fiji International Airport, The Radisson Blu Resort is a fantastic Fiji accommodation ideal for families seeking an affordable luxury escape. Providing the perfect base to explore some of Fiji's most picturesque natural attractions, the resort enjoys an enviable waterfront location close to fishing, snorkeling and scuba diving sites. Offering kids stay, play and eat free packages for children under the age of 12, the Radisson Blu allows families to experience luxury Fijian hospitality at a fraction of the price. With an entertaining kids' club, babysitting service and outdoor activities on offer, the kids are guaranteed endless amounts of holiday fun.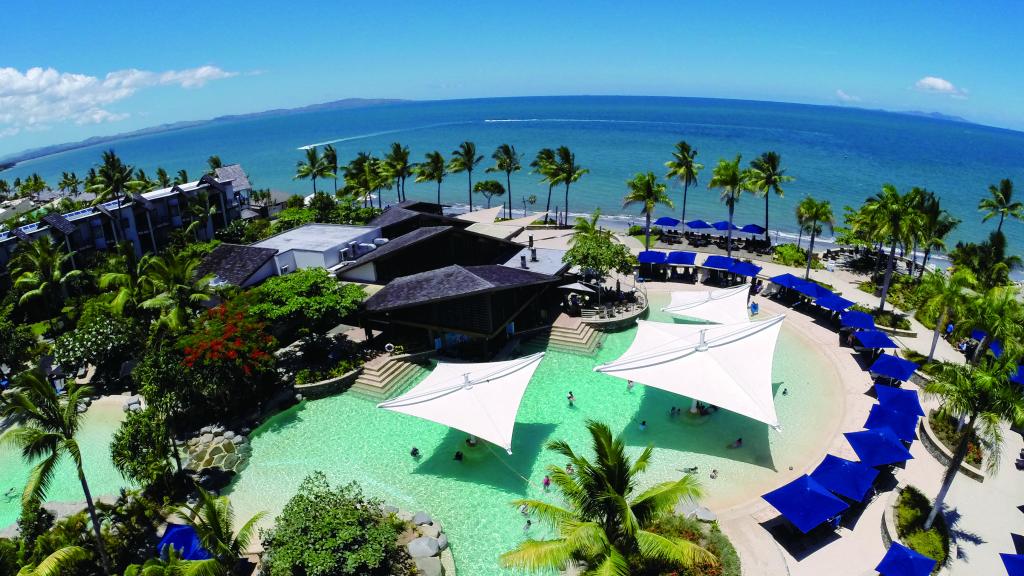 Naviti Resort Fiji
Flanked by a glistening lagoon on Fiji's Coral Coast, The Naviti Resort Fiji is a popular resort offering sensational accommodation and entertainment for the whole family. Enjoying a range of modern facilities and superior service, the Naviti allows you to relax and unwind from the moment you arrive. Offering guests the choice of an all-inclusive accommodation option, families can experience the holiday of their dreams with all accommodation, meals and drinks combined into one affordable holiday package. Allowing families to plan and budget for every detail, the Naviti Resort Fiji ensures everything is already taken care of before you even arrive.
About The Author
Comments


by via Source link Travel Blog

Search cheap hotels, villas, apartments, flights and car hire.